The Effects of COVID-19 on College Sports: Q&A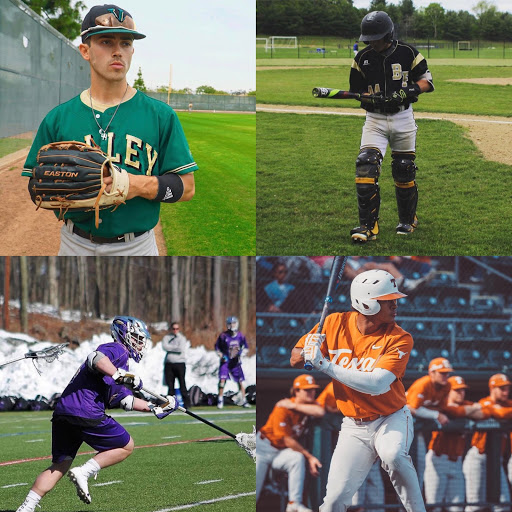 The COVID-19 pandemic is taking the world by storm. 
Most colleges and universities have sent all their students home for the rest of the semester. That led to all college athletics being suspended for the remainder of the season. Many athletes are very upset with the timing of COVID-19, especially seniors. I interviewed four college athletes at the Division I, II, and III levels of NCAA, along with a JUCO (junior college) athlete, over text message and Instagram direct message. The goal was to catch up with their thoughts of this pandemic, especially in the eyes of a student athlete. 
Trey Faltine is a freshman at the University of Texas, a Division I school with one of the best baseball teams in the country. Faltine was drafted in the 38th round of the 2019 MLB draft but opted to go to college. Ethan Belt is a Division III baseball player at Clark University in Worcester, MA. Chris Kirby is a lacrosse player at St. Michael's College of Vermont. Lastly, Stephen Knez is a junior college baseball player at Los Angeles Valley College, working his way to get to Division I baseball. Knez is a famous Youtuber with "day in the life" style baseball videos.
What was your first reaction when your season was suspended due to the Coronavirus?
Faltine: I felt very sad and I felt empty. 
Belt: [I was] very disappointed. We put in so much work and to have the season cut short was a huge disappointment. I felt especially bad for the seniors. I didn't want their careers to end like that. 
Kirby: I was disappointed that the work I had been putting in during the off-season wasn't going to get displayed. 
Knez: I felt crushed because everything that I had worked for in the off-season got delayed a whole year.
What ways have you kept yourself occupied during these times? 
Faltine: I have been working out and been doing baseball-related activities. 
Belt: I figured out a routine where I wake up, do my classes and schoolwork, hang out a little, and hit and throw at the end of the day. I can't do much outside of my house because everything is closed, but I've been hanging out with my brother and my one friend every day, watching TV and messing around in the yard, just [trying to] make the most of the situation.
Kirby: I have exercised everyday like I would back at school. 
Knez: I've been getting more work in than ever, especially during these hard times. I've been doing homework, hitting in my batting cage, working out, and editing way more often.
Now that you are not on campus, besides sports, what do you miss the most? 
Faltine: Day to day interaction with my teammates and all my friends. 
Belt: The boys. Living with your friends, always having someone to chill with and something to do on the weekends, it's a blast. Now I can't really do too much. I definitely miss my boys the most.
Kirby: In-class discussions. They make the learning experience a lot better.
Knez: I miss seeing all of my friends at school and practice.
What would your team have accomplished up to this point if you were currently playing? 
Faltine: I believe we would still be playing really good and undefeated in conference.
Belt: Right now, we would've been right in the heart of our conference games, so we would've been at a really important point in our season. Although we didn't play up to our potential in the first ten games before our season ended, I knew we were gonna play better, so it would've been a really exciting time. I envision we would've been playing good, battling through the conference and trying to not only make playoffs but win our division.
Kirby: I feel as if we would've started to really get our stride and heat up for playoffs.
Knez: We were doing well throughout the year, so I would've liked to see us win the conference championship.
Have you started any new hobbies since quarantine started?
Faltine: Fishing.
Belt: I've been playing a lot of yard golf, watching TV, playing Madden, shooting some hoops, and also playing the board game Clue. It has been [kind of] cool to do a little stuff I haven't done lately, but overall I miss the season and miss school. 
Kirby: No, I have not started any new hobbies. 
Knez: No, I've been keeping the same hobbies and working harder on them with this new free time. 
Lastly, has anything positive come out of this situation for you?
Faltine: I have gotten to enjoy family and relax
Belt: It's not a fun situation, but I've really been trying to take this time to get bigger and stronger and just improve my game. It's the best we can do right now. I've also been getting good grades with online classes so far so that's a positive. It's always good to see my brother and parents, too.
Kirby: Family time. I wouldn't have been able to experience [it] otherwise. Plus, I get to see my dog.
Knez: Yes, I have more time to work hard on my dreams and the goals I have set in place before the coronavirus.
With the ending of college athletics, the NCAA, NAIA, and NJCAA have granted all spring athletes an extra year of eligibility due to the season being cut short. This pandemic has had a major effect on everyone. Hopefully, we can slow down the curve and get back to sports and normal life very soon.