Raise Your Hand, but Cover Your Mouth, Please
COVID's effects on student learning, and what this means for the future of education
When you walk into a classroom today this is what you see: A student sitting at their desk, surrounded by a class they no longer recognize, a class they no longer know. The student raises their hand, eager to answer the question marked on the board. The teacher calls on the student, but when the student goes to speak, no one can hear their voice. 
COVID prevention masks are just that: prevention from COVID, and their role in protecting the safety of people around the globe has been extremely existential. But what about  the students? The effects COVID, and the wearing of masks, have had in school environments are changing the education system. 
For the little ones, teaching "normally" has hit the hardest. 
"Hybrid was hard…and so was remote," said second grade Page School teacher, Mrs. Morse. "We had to skip partner work so the kids could stay six feet apart…it definitely wasn't easy." 
Mrs. Morse typically works with students with pronunciation during reading and writing lessons: "The pronunciation requires a lot of sounds, which have been very tough and tricky. However, we've been using videos so the students can see the mouths move on the screen."
Mr. Peterson is another teacher at the Page Elementary School who has noticed a difference in students behavior due to wearing masks. "Last year, when the kids came back, they all missed the social piece, so I gave them more of a leeway…longer mask breaks, etc., but we're noticing kids coming in this year are much more social and talkative." He adds, "it's not that mask-wearing is a real issue with these kids, but because of the social gap, I've noticed this is probably the most immature group of 5th graders I've had." 
At the highschool, it can be observed a little differently. Students tend to get defensive when asked to put their masks back up on their face, and kids are often seen walking in the halls with their masks all the way down. 
"Yeah, it's not good," said Pentucket Senior (anonymous), "but it's also hard because you want to yell at the kids to just wear the mask correctly, but you also feel a little sympathetic because you know this whole thing is just hard." 
The academic report from last year was also extremely reflective. 
"It's no secret we've seen a decrease from last year's grades," says the Head of Guidance Department, Mr. Smith. Teachers have been noticing certain skills are failing to transfer over from last year to this year, almost as if we skipped a grade. 
Pentucket's Superintendent, Dr. Bartholomew, comments on the issue: "There wasn't a district policy on COVID, so it was hard to discipline the students. You know, you see students' grades dropping quickly from an A to a C, and it's just hard for teachers to help." He elaborates, "due to everything, everyone's going to have to understand, though, especially colleges." 
I asked students to answer a survey on their opinions for the hybrid/remote/and all in learning we've been adapting to for the past year or so. Students in grades ten through twelve voted all-in school a more preferable option to hybrid learning, 69% to 31%. However, the survey also showed students agreeing with the fact that Pentucket should still offer hybrid options for various students:
What Type of Learning Works Best for You?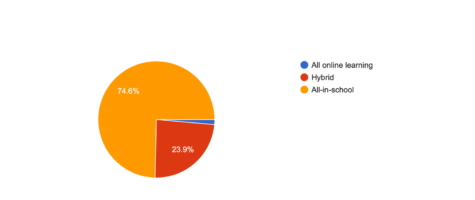 Do you think it's a good idea for Pentucket to offer modified learning systems for students (such as all online, or hybrid learning)?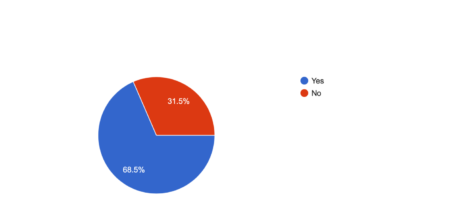 "Granted, homeschooling is always an option for these students," said Mrs. Morse, "however, especially with COVID, we've noticed parents who just can't handle keeping track of their kids' assignments, in addition to working a full time job, so, grandparents have started to help out."
So, what does this mean for the future of education?
"There are a lot of silver linings we can take away from this to make education better," remarks Mr. Peterson. Teachers are now able to have virtual lessons, with countless online resources. "Meetings now don't have to be in person," commented Mr. Peterson. 
Dr. Bart added, "we learned exponentially how to use technology better. Now, if I've been out for two weeks, I can just hop online and catch right up. The technology COVID brought us has really helped to keep everyone locked in."
The Pentucket Music department also made the most out of their COVID experience. 
Mr. Schumacher, PRHS Director of Jazz, recollected, "COVID did affect our enrollment for student musicians, because parents and students were nervous. But we saw massive advancements as well. In some ways the hybrid system opened up for more control over what they[students] were working on, and offered new opportunities that the students wouldn't have had time to explore. COVID really reflected the empathy of the giving of music to others, rather than here's how I play my instrument well. It reminded us why we make music."
The COVID pandemic has brought negative and positive changes to education, and although these experiments have reflected upon the teachers, students, and parents all involved, the whole process has been important. It's allowed us to learn, adapt, and ultimately reflect. The future of education is still unknown, but wide-open with new possibilities. 
So as you walk into a classroom today this is what you will see: A student sitting at their desk, eager with something to say, and although their mouth is covered, the words they will say are someday going to change the world.