Ray Rice Suspended Indefinitely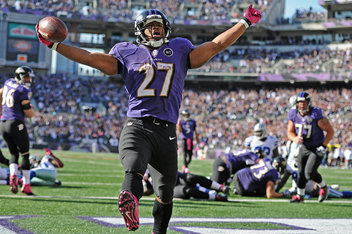 Former Baltimore Ravens running back Ray Rice has been suspended indefinitely by the NFL and has had his contract terminated by the Ravens after the video displaying him aggressively hitting his then fiancée was released to the public.
At first, only part of the video was revealed to the public, showing Rice dragging his unconscious fiancée out of an elevator. However, TMZ sports has recently released the whole video. It shows Rice striking his fiancée in the face; she then falls down, unconscious. At first, the NFL gave Rice an extremely lenient two game suspension. Even though at the time the whole video was not released, many people were appalled that a case involving domestic violence only cost the former all-star two games. After Rice got away with this two game suspension, commissioner Roger Goodell made a new domestic violence policy in the NFL, with the first offense being a 6 game suspension and the second offense being a life time ban from the NFL. Goodell later recognized that the initial suspension was far too little, stating, "I didn't get it right."
In a country where 25% of women claim to have been domestically abused, the type of behavior Rice has displayed is simply unacceptable, especially to a former role model. Pentucket senior Dylan Wright feels that "the NFL should not give Rice another shot because it would look like they condone this type of behavior."
After Pentucket senior Mike Sullivan watched the whole video for the first time, he replied "I think it's out of line. Domestic violence should not be accepted."
However, just recently, law enforcement officials claim to have given the whole video of Rice punching his fiancée back in April of 2013. But commissioner Goodell claims this is not true, and that he saw the whole video for the first time this past week. Someone has to be lying, and if it is Goodell, then Ray Rice won't be the only one left without a job by the end of this hectic series of events. Wright went on to say that if it is true that the NFL had the whole video back in April, then Goodell should be fired.
Multiple sources have also revealed that Rice had a meeting with commissioner Goodell back in June, where he confessed to the commissioner that he did in fact hit his fiancée in the face, knocking her unconscious. However, Goodell gave Rice a two game suspension after only seeing Rice drag his fiancée out of the elevator because he claimed the video was "ambiguous." But if Rice did in fact confess to him back in June, then how could he claim the video was ambiguous if he already knew what happened? In the end of this debacle, something is definitely not adding up, and Goodell's job is certainly under scrutiny. If Goodell does not get fired or at least suspended by the end of this, then there is something wrong with the NFL.
While Goodell cannot prevent domestic violence from happening, he can make decisions regarding suspensions and fines. Since Goodell became commissioner in 2006, there have been 56 cases involving domestic violence. The total suspension for these 56 cases of domestic violence combined is 13 games, an utterly appalling statistic, which makes it look as if the NFL condones domestic violence. It would be in the NFL's best interest to end Goodell's reign as commissioner; he could not have handled one of the darkest periods in NFL history any worse.
On the topic of the possible ban or suspension of Roger Goodell, St. John's Prep Junior Ethan Roy stated that "the NFL should have zero tolerance for actions of this nature and it would be greatly beneficial towards the character of the NFL if they put Roger Goodell in its past."
Goodell's job is definitely not an easy one, but because of his failure to implement necessary suspensions, he has successfully tarnished the reputation of the NFL.
Nonetheless, this unfortunate twist to the former top five running back's life may mark a rather abrupt ending to Rice's already brief career in the NFL, and Commissioner Goodell may be right there with him.
View Comments (1)