Stuart Scott dies at age 49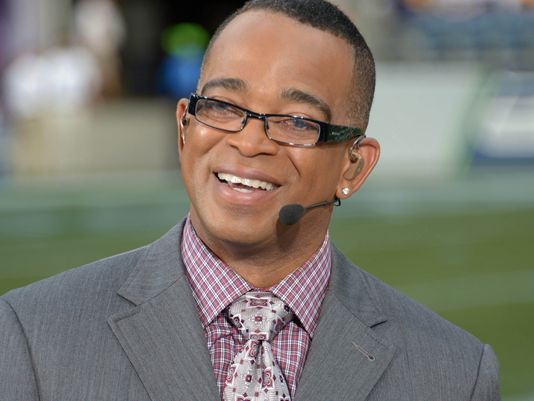 After a long battle with cancer, SportsCenter anchor Stuart Scott died at age 49. Scott joined SportsCenter in 1993 and was well-known for the unique and enthusiastic flare he brought to the show.
Up until Scott's arrival, SportsCenter was more of a serious, sports journalism show. However, when Stuart Scott joined the show, his natural swagger and iconic catchphrases benefited the show in many ways. His catchphrases, such as "Booyah!" and "he's cooler than the other side of the pillow" made the how more interesting and entertaining.  This new type of broadcasting style was liked by some people and disliked by some as well. But Scott did not let people's opinions him from being himself and doing the show the way he wanted.
In 2011, Stuart was diagnosed with cancer in his abdomen. Although he went into remission in 2012, the cancer returned yet again in 2013. However, Scott did not quit. He did everything in his power to fight and persevere through his battle with cancer, even working out and practicing Mixed Martial Arts in between cancer treatments. Scott served as a role model to others who have cancer, and his perseverance earned him the Jimmy V Perseverance Award at the 2014 ESPYs, where he gave a very emotional speech, despite having had four surgeries in the past week. There he said "you beat cancer by how you live, the way you live, and the manner in which you live." His memorable speech reminds people to never quit and to always keep fighting.
"I'm going to miss seeing Stuart Scott on SportsCenter in the mornings," said Pentucket Junior Kyle Sedler.
Cam Wolbach, a Pentucket Junior, said, "He was an inspiration to so many people, and he was a huge reason as to why I watched SportsCenter."
Along with being a passionate sports anchor, Scott was an even more passionate father. He was the father of two girls, Sidni and Taelor. Stuart was known by his colleagues as a very caring father who loved nothing more than his kids.
Stuart Scott was many things; a fun, energetic sports anchor, a father, a husband, and an inspiration. He will be very missed.
Leave a Comment