"Enjoy every sandwich"
According to a little research on the World Wide Web, the first sandwich appears to have been created by the 4th Earl of Sandwich, aka John Montagu.
Among other things, the 4th Earl of Sandwich was into gambling. In 1762, he invented the sandwich by placing meat between slices of bread. This allowed him to play at the gambling table for long periods of time without needing to get something to eat.
Today, while we might not celebrate Mr. Sandwich's pastimes, we do exalt his gift to the world: the sandwich.
This miracle between bread has been modified and evolved into numerous variations around the world, making it one of the most delectable and convenient ideas for a meal.
Since National Sandwich Day is right around the corner on November 3rd, what better way to celebrate than reminisce about all best sandwiches known to America? Below is a list of just a few.
If you think any sandwich was wrongfully forgotten, comment down below.
7. Cuban:
To kick off our list, we head to the south of the South: Florida. Traditionally, the sandwich consists of mojo-spiced pork butt, Gouda or Swiss cheese, pickles, and mustard.
However, there are some variations to this sandwich which actually causes quite a heated debate. If you are from Tampa, home to the first Cuban-American community, you are a firm believer of salami as an ingredient.
On the other hand, if you hail from Miami-the self appointed U.S. Cuban capital- you would argue that Salami is for the Italians. Whatever you think, just know the Cubano is delicious.
6.  Po' Boy:
The city of New Orleans is known for many things: the crazy celebration of Mardi Gras, the birthplace of jazz, and also its creole/cajun cuisine, which is where the po' boy got its origins.
Created in 1929 during a streetcar strike to feed the poor strikers (affectionately named poor boys), this sandwich features French bread, fried seafood (like shrimp) stuffed in between, and some cornmeal on the side.
The po'boy has also been the cornerstone for many other sandwiches, including the Vietnamese bahn mi, mentioned later in this article.
5.  Tuna Melt:
One of the two seafood sandwiches that made it on the list, a tuna melt is basically what is sounds like: a tuna sandwich with cheese placed on top, which is then grilled or fried until the cheese has melted.
Coincidentally, it is also the name of a beloved Instagram dog, a five year old Chiweenie who has an exaggerated overbite, recessed jawline and wrinkly neck. His followers top at close to 1.5 million. Check out his instagram if you want to see more. https://instagram.com/tunameltsmyheart/
4.  Cheesesteak:
Like NOLA, the city of Philadelphia has much to offer to visitors: the Declaration of  Independence, the word "youse," and such dishes as the famed Philly cheesesteak.This sandwich is made up of thin-sliced sautéed beef, melted cheese, and sautéed onions served in a long roll.
Did you know that In December 1998, the Eagles set the world record for longest sandwich by creating a cheesesteak on a single roll as long as a football field, counting end zones? That certainly is a better record than Sam Bradford's record: worst Total QBR (29.6) this season.
3.  Lobster Roll:
This one needed to find its way to this list. I mean, we live in New England: the home to all specialty seafood items. A juxtaposition within itself, a lobster roll consists of lobster meat (which costs at least $9.99 a pound) stuffed into a hot dog bun (which cost 8 cents per bun).
An interesting fact about the lobster is that lobster was once served to prisoners in colonial America, mainly because there was an abundant population of the shellfish, and the rich people got tired of eating it.
2.  Grilled Cheese:
One of the best things about this sandwich is that it's so simple and easy to make. It's literally just some cheese between slices of bread.
But that's the genius of it: you could use any cheese, any type of bread, any extra ingredients. There are roughly 1750 specialty cheeses from 74 countries. And, studies have recently shown that cheese is as addictive as drugs.
So, check out some of these excellent grilled cheese recipes, and indulge in that cheddar high.
http://www.buzzfeed.com/rachelysanders/truly-thrilling-grilled-cheese-sandwiches#.ui9mXE4md
1.  Peanut Butter & Jelly:
Of course the sandwich of your childhood had to be number one on the list. A simple blend of PB&J between whatever bread you want, and boom… the perfect combination of sweet and salty.
    Some fun facts about this nostalgic meal are: a.) the average American will eat 1500 PB&Js before they turn 18, b.) by law, any product labeled "peanut butter" must be at least 90% peanuts, and c.) the largest Pb & J sandwich was weighed at 1,342 pounds in 2010.
*For those who like to explore beyond our nation's borders, here is a list of the world's greatest sandwiches:
⧫ Arepas-  a flatbread of ground maize dough or cooked flour prominent in the cuisine of Colombia and Venezuela.
⧫ Gyro- a Greek dish made of meat cooked on a vertical rotisserie and usually served in a pita or sandwich, with tomato, onion, and tzatziki sauce.
⧫ Croque Monsieur- a fried or grilled cheese and ham sandwich originating from France.
⧫ Banh Mi- a Vietnamese sandwich consisting of a baguette (traditionally baked with both rice and wheat flour) filled with typically meat, pickled vegetables, and chili peppers.
⧫ Smörgåstårta- a Scandinavian sandwich-cake made up of several layers of rye bread with creamy fillings in between, like eggs, mayo, and liver pate.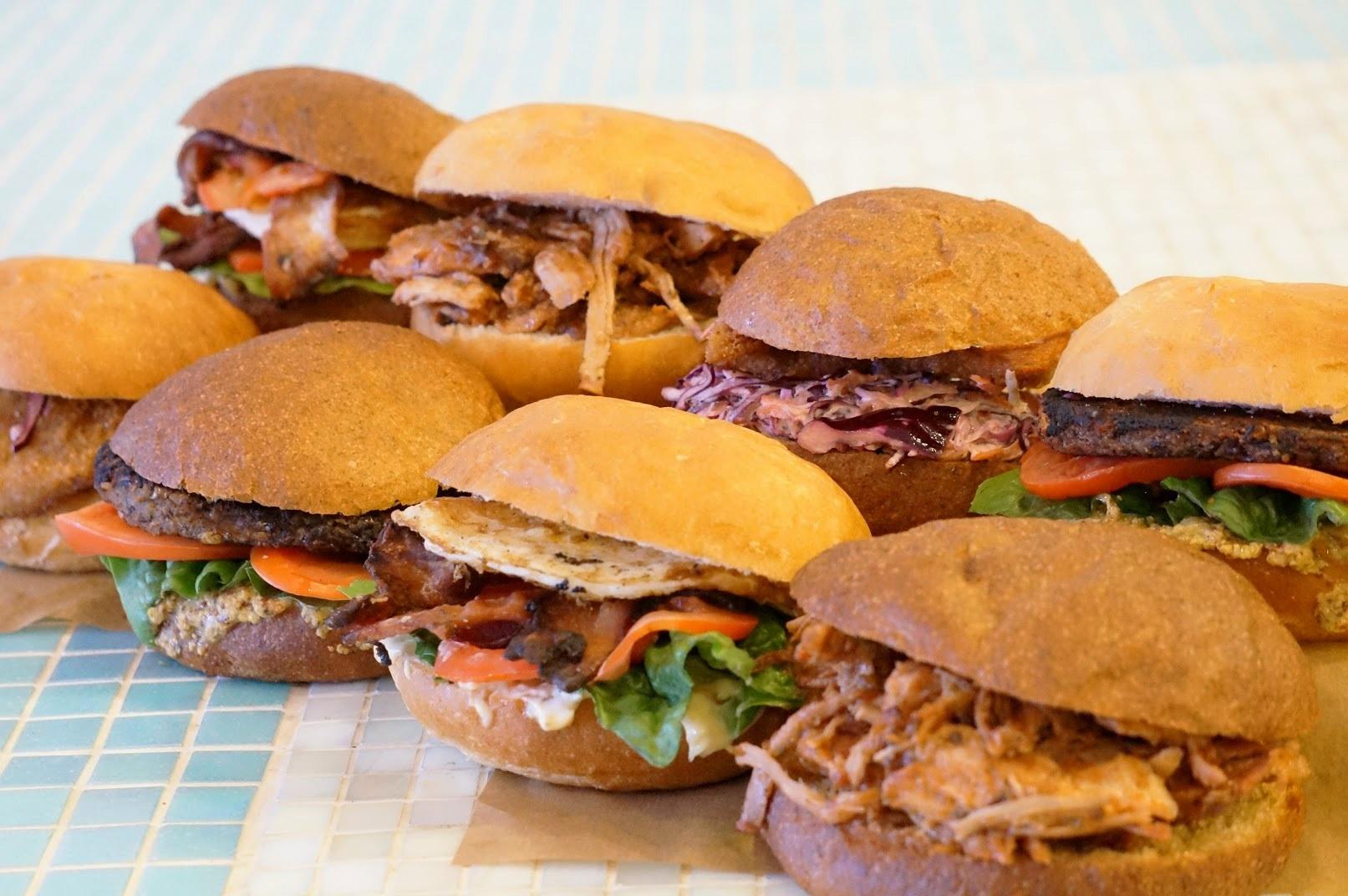 View Comments (15)