Balancing Two Languages: Mrs. Torosian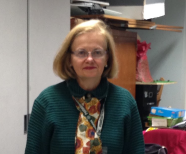 Spanish speakers know her. Latin students know her too. Yes, those are two different languages, and she teaches both of them. Elizabeth Torosian, better known as Magistra by her Latin students, is the master of many languages.
Her career at Pentucket began when she received a call from Mr. Seymour in 2003 asking if she was interested in teaching Latin and Spanish here. At the time, her grandchildren were young, and her commute was an hour both ways. Torosian knows both languages, including French and German, and now her commute to Pentucket is only 20 minutes long. As you know, she took the offer.
Her interest in Latin began in high school when she was taught by a tough, but highly respected, Latin teacher who inspired her to learn the language. Her French teacher also influenced her, because she brought back things from the country, and she spoke to the class in French, which made the class exciting.
Torosian has a lot to cover in class. Since she has been teaching, she has seen a shift from "the grammatical approach to communication." With Spanish, she focuses on getting the students comfortable with using the language. With Latin, her goal is to have students be comfortable with the "oral conversational piece" while incorporating translation and understanding how Latin and English connect. She must follow the national standards because the state standards have not been updated since 1999.
Torosian was also a principal at one time. With so much work to do, she learned the valuable lesson of work and life balance. She joked, "I take vitamins, [and] drink coffee," to manage the workload. When she was a principal, she was on call 24/7. She was missing out on seeing her grandchildren grow up. As a teacher here, she makes sure to take care of herself and she says, "If I can't get to something, I just can't get to it, and I have to realize I'm not super." She keeps up with the popular songs now too, saying, "I have to make sure it is not always work work work work work," as the Rihanna song goes.   
She also faces some challenges in the classroom. The toughest part about teaching for her is making sure that all of the technology works.
Outside of the classroom, students notice her. She recalls one time being in the Museum of Science when a former student recognized her and shouted, "Magistra," from across the gallery. She said it was embarrassing, because everyone was looking at her, but she was flattered that the student recognized her.
For her current students, Torosian wants to transfer her excitement for the languages onto them. She loves when students do not see the language as a requirement to fill, and she wants to see the students being able to use the language. She says she feels most appreciated when students thank her after class. In the future, she hopes to overcome her fear of planes so she can travel more.
Who knows, maybe she will be your Spanish teacher next year. Maybe she will be your Latin teacher. Either way, she can be reached at [email protected].
Questions source: http://www.nclack.k12.or.us/cms/lib6/OR01000992/Centricity/Domain/1073/Good%20Journalism%20Questiion%201.pdf