The Impact of Drunk Driving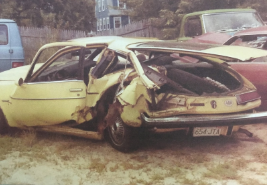 What if she had left 5 minutes earlier? What if it hadn't rained that night? What if he hadn't had a set of spare keys?
August 6th of 1985 was a summer night like any other, despite a little rain. Joseph, a 22 year old resident of Lowell, MA, had been drinking and gambling with his friends at a cottage on Salisbury beach. After arguing with a friend, who was also intoxicated, he stormed out.
When Joseph's  friends attempted to stop him by taking his keys away, he simply pulled out his spare set and continued on his drunken rage.
Joseph's blood alcohol content was .26. The maximum BAC under which it is still possible to operate a vehicle under is .08.
Pamela Moore was a waitress at the Mill Restaurant in Amesbury. Her coworker, Robert L'Heureux, who was the chef at the Mill, had ridden his bike to work. Due to the rain, Pam had offered to drive him home.
They were outside Robert´s home at 117 Beach Road in Salisbury. Her car parked in the fog lane, Pam was removing his bike from her trunk when disaster struck.
Joseph, too intoxicated to control his mom´s 1984 Pontiac LeMans, drifted into the fog lane.
When he slammed into the back of Pam's car, crushing her between the two, he changed an optimistic, young college student's life forever.
She was crushed between the two cars, her left leg severed.
The leg was 17 feet away from her body. 30 feet away from the point of impact.
Two brothers driving by were off-duty EMTs. They are the only reason she is alive.
Daniel Battle packed ice and water on the dismembered leg, in case it could be reattached, as Steven Battle applied a tourniquet to her left thigh in attempt to stop the bleeding.
She would have died if they hadn't coincidentally been driving by at that exact moment.
Joseph fled down the street and hid in the bushes. When police approached him, he was completely incapable of getting up and began to swear repeatedly. He was so drunk he had to be picked up and carried to the police car by officers.
At the hospital, doctors attempted to reattach her leg, but failed. Pamela Moore was now officially an above knee amputee at age 22. Meanwhile, Joseph was sentenced to two years in prison, but he appealed it.
Pam was at Anna Jaques Hospital for 2 weeks, but was on so much medication to ease the constant pain that she retained little to no memory of it. She then spent two months at Spaulding Rehab in Boston just to relearn how to do everything. She had to take one semester off of college and graduated with a different class than which she started with.
That was 31 years ago. She got married and became Pamela Ellis. She had a baby (aka me!) and educated children for 15 years. Pam had every reason to be unhappy– but she was thankful. Thankful to be alive and to be able to walk again at all, even though it would not be seamless. My mom is one of the happiest people I have ever met, despite the obstacles she has faced. She does everything a typical mother would do, and then some.
However, it has not all been unicorns and rainbows. Because Pam received a blood transfusion, 85% of her blood is not hers. Blood was not thoroughly tested in 1985, so an antibody was put into her bloodstream that caused major problems during her pregnancy.
Pam switched to Beverly Hospital after her first hospital did not inform her of the pregnancy problems the blood type could cause until after she was already pregnant. Thankfully, their excellent doctors worked everything out.
Pam is now 53 years old. She can´t run. She can´t even walk quickly. . She can dance– but only with her upper body.
Growing up, I went skiing with my neighbors. I learned to ice skate from a stranger. I hiked mountains with my Girl Scout troop. I went camping and on bike rides with my friend's families.
Yes, she is alive. Yes, she is happy. However, Pam's life was unnecessarily altered because one person decided to drive drunk.

About 72% of students consume alcohol (and more than just a few sips) by the time they graduate high school. A large portion of these students can or will drive. Many schools get involved with a program called SADD, or Students Against Destructive Decisions. One of the programs main focuses is substance abuse and distracted driving– drunk driving in particular. However, Pentucket High School does not. Personally, I think teaching kids the harsh reality of drinking and driving would definitely have a positive effect.
I cannot say it any better than a 1985 editorial in The Daily News: "Whenever someone gets behind the wheel after drinking, he or she should not be saying, 'Can I make it home without hurting myself?' He or she should be saying, 'Can I do it without hurting, maiming, or killing someone else?'"