Shrek the Musical!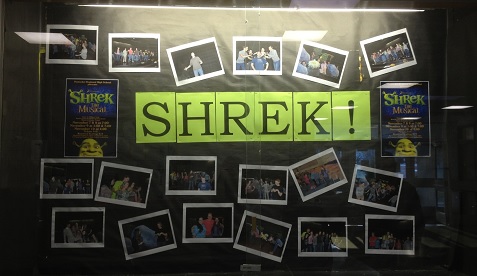 The fall musical is here!
This year the Pentucket Fine and Performing Arts Department will be performing Shrek as the Fall musical. Auditions were held late last school year, right before summer vacation. Parts were cast and rehearsals started on the first day of school this year. The casting includes Rachel Smith as Ogress Fiona, Phoebe Law as Fiona, Kevin Lundy as Shrek, Ben Joyall as Donkey, Lindsey Karalias as Dragon, Noah Malonson as Gingy, Conor Durkin as Pinocchio, Justin Peavey as Farquaad, and many more talented young actors and actresses.
"It is probably about an eighty person cast," says Phoebe Law, who will be playing Fiona in the musical this weekend. "There are about forty children in the play," says Law.
As this is the Fall musical, many freshmen will be making their debut on the highschool stage. Audiences can look forward to beautiful, elaborate costumes. Some of the set has been created by the arts department. Mrs. Nadeau-Tanner, the painting and photography teacher, and other art students have been working hard creating a dragon, trees, and other various props for the set. Show dates are Thursday November seventh at 7:00 pm, Friday November eighth at 7:00 pm, Saturday November ninth at 2:00 pm and 7:00 pm, and Sunday November tenth at 4:00 pm. Tickets are available now in advance and can also be purchased at the door the night of the show.
Leave a Comment