The Last Lawless City in America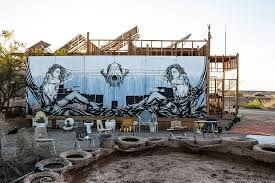 Hang on for a minute...we're trying to find some more stories you might like.
There is one lawless city that still remains in the United States today. This area is called Slab City, better known as The Slabs. This plane, documented by NPR, was found to hold 600 acres in the Sonoran Desert in Imperial County, California. Just a short 20 minute drive off the coast of Salton Sea according to the channel Yes Theory.
This infamous body of water had once held a nationwide attraction in the 1950s. Leading to its creation was an engineering disaster while constructing the Colorado River. This resulted in forming the largest body of water in California: the Salton Sea.
After an entire town was built around it, the water slowly dried up over time and became so salty to the point that living organisms were unable to live there. The water turned toxic, former attractions were abandoned, and all organisms were left decaying. The only thing remaining on the shores leading up to Slab City are scattered fish bones.
At the entrance of the town marks a long road leading up to "Salvation Mountain," a famous art structure created by Leonard Knight, a local citizen, throughout 30 years of his life. According to Yes Theory, his main purpose of constructing the piece was to spread the message of "God is love."
In the end, the masterpiece used up 100 thousand gallons of paint along with hundreds of wood figures, hay barrels, and several pounds of cement which were donated by visitors from across the world as stated by Yes Theory.  
To this day, this art piece is labeled a national figure. One visitor documented by Yes Theory described the spectacle as "the craziest thing I've seen in person."
This monument still holds tours, which are frequently held by a resident of Slab City. On tours, directors go into detail of the creation process of the piece. While touring, the main director said to the documented group of visitors from Yes Theory, "These flowers, all these flowers here, he would take them, out a ball of clay on there and pow, punch it with his fist."
A two minute drive from this breathtaking structure rests the heart of Slab City. Visitors are first hit with vibrant, welcoming billboards leading them into the community of East Jesus. This art installation also holds religious symbolism which is correlated within the art forms that are displayed there according to ATI.
While entering the East Jesus Community, a group of tourists from Yes Theory stated, "We realized there's probably not a single city in the world like this one."
This now cheerful community was once home to a military base used during World War II. Atlas Obscura claims that after the war ended all the structures were taken down and the land was left abandoned.
News spread of the clearing and hundreds of squatters made it their home during the winter months. Thousands of veterans and artists come each season to this plumbing and electricity-free community. Many claim to be attracted by the lack of governmental control.
After exploring East Jesus further, the group of tourist from the Yes Theory channel ran into the spiritual guide towards the center of town. He told the visitors, "This place is a power vortex. You feel a change in the area here."
As a whole, Slab City is reflected as a "vortex" from society, in which anyone can do anything they want without warning or consequences. It's a place in the world where government officials do not have control over one's life nor do laws confine someone. This isolated 600 acre plane holds the freedom of thousands of Americans.