The One and Only Garrett Lischke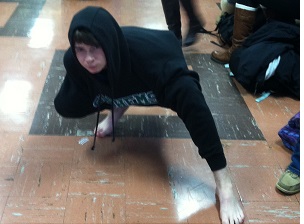 We all know the kid, he's small, he's well dressed, and he's outgoing; he's Garrett Lischke.
Garrett is an iconic student at Pentucket, and everyone knows and enjoys his quirky attitude and crazy personality.
Senior Cam Silveira described him as, "insane and crazy and hilarious and a little overbearing."
What Cam said is entirely true; Garrett participated in the school play where his overwhelming personality is perfect for the spotlight. He was in the fall musical, Shrek, as the Pied Piper which is a supporting role that involves a tap dance.
"One funny time I had with Garrett was when we were in Emma Jones' Original ten-minute play together for theater class. I played an abusive father and Garrett was my son. That was when I really got to know Garrett and how outgoing his personality is. The play is just a great memory to look back on despite the fact that the play was a hot mess," said Cam Silveira.
Along with the play, Garrett does wrestling as a sport in the winter, and as a freshman received a varsity letter, which is a very big and exciting accomplishment. Also he does the spring musical and last year was in the play Footloose.
"He's very spunky," said sophomore Jen Lovett, "He will definitely approach anyone for no reason at all, it doesn't matter if he knows them or not."
Garrett definitely leaves a mark on people after he meets them, Mrs. Olivera said, "He's one of those people that when they come into a room they have a presence."
"He is full of life, very vibrant, has a big personality and is very funny," Mrs. Olivera said. "For example he calls me Mama O," she added.
"That bizarre sweatshirt thing that he does is very entertaining," Mrs. Olivera also said. That sweatshirt thing is when someone puts their feet through the sleeves of their sweatshirt and walks around hunched over, resembling a creature of some sort.
As odd as that may seem Garrett often does that just for the fun of it.
Sophomore Laura Hardenstine said, "There is a lot of ways I could describe Garrett, creepy is one of them." Garrett's relationship with Laura is quite interesting also. "He stalks me, ya he is pretty much my stalker," said Laura.
Garrett Lischke is an amusing and outgoing student who is repeatedly described as humorous and unique, but it is his lively personality that makes him recognizable and a loved student at Pentucket.
View Comments (1)