Fall II Sports: What's Really Going on?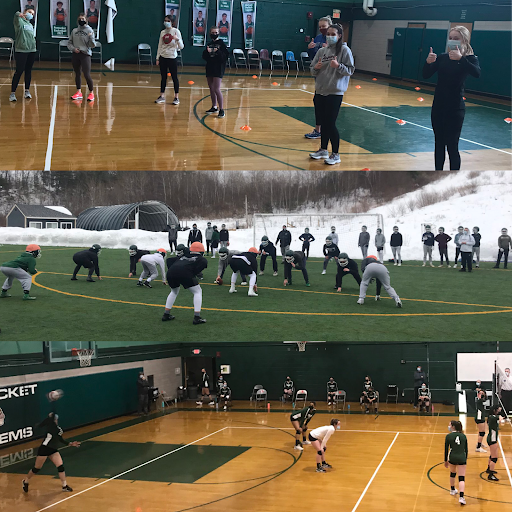 While Covid-19 has posed great challenges for sports, many athletes are questioning if Pentucket has taken the best action in response. Even though athletes are excited to play their sports, there seem to be various underlying questions about the current season. 
There is a general understanding among Pentucket community members that, because of Covid-19 precautions, an additional fee makes sense. But what are we really paying for, and is it worth it? Are athletes completely happy with their season?
Fees
Indoor Track: $180
Volleyball: $255
Football: $405
These are the crazy amounts that Pentucket families are paying for their children to play Fall II sports, almost double what it would normally cost. Indoor track usually costs $100, volleyball $175, and football $225. What is the deal with these costs?
The Fall II season has athletes paying outrageous amounts of money, sums so large that many families cannot afford to pay for their children to play. Athletes that have devoted so much of their time to sports they love now are not able to play because they cannot justify paying hundreds of dollars for a season that does not seem totally normal. However, others feel that the fees make sense given the current situation. 
Junior Tristan Bukow chose not to play football this year "because [he] felt wrong paying all that money to not have a guaranteed season or get to fully experience the whole thing."
On the opposing side, Junior Michael Bochman says, "The money change is unfortunate, but it is a lot of equipment and having to rent a field for practice with the construction going on at school makes sense." While making decisions for the sports seasons cannot make everyone happy, there does seem to be quite the controversy with all the details of Fall II.
Many athletes and parents are questioning exactly what these "Covid fees" are paying for but have not properly questioned or done any digging. It seems as though the exact details of the sports season have not been clearly laid out for the community to see, and people want answers. Many coaches say that guidelines are still not released because, well, no one has come up with any yet.
The one person that knows the answers to these questions is Pentucket's Athletic Director Dan Thorton. When asked what the additional fees are for, he says that "the district imposed these fees for cleaning purposes… When a practice or a game gets out, the custodians go in and fog it in between." 
In regards to the extremely high cost of football, Thorton said that "it is easy to see where this money is going as we have to pay for cleaning on top of equipment and renting out Amesbury Sports Park." It seems reasonable that athletes have to pay for Covid cleaning and for sport-specific things, but many still feel as though these fees are a bit high.
Space
With the construction going on around the school and winter temperatures not always allowing for outdoor practices, teams are struggling to find space. Rules for this season have banned any activity to take place in the halls, and, right now, Pentucket just does not have the space to support all of its teams.
The football team feels lost without their field and now practices on the front field and at Amesbury Sports Park. The loss of their beloved backfield is crippling and is having costly effects on the team's performance. Not to mention that getting to the Sports Park every day adds in additional time and cost in gas.
Many track athletes from the girls' team are also struggling for space. Members of the girls' track team feel as though they are being completely gypped as they have paid double the normal fees only to be stripped of their gym time and sent to wherever there is room. Junior Jillian Colbert says, "[The team's] 2:45-4:15 time slot seemed to be working great… until the volleyball team took over and pushed [the track girls] out."
In addition to this scheduling problem, the girls' and boys' track teams have missed out on the past few Monday practices, but no one is sure why. Many think this is because the volleyball team is taking over the space, forcing track practice to be canceled. When asked about this issue, Thorton says that "the big gym is really the only place that the volleyball teams can play because of the anchor plates that the nets set into." Some are still upset about the space issues and feel as though they have paid great sums just to be pushed aside.
On a positive note regarding spacing, Thornton says, "We want parents, and eventually all students, to be able to go to see the games." He says that there will be enough space for home-team parents to attend games and meets, which brings hope that both crowds and events will make their way back to normalcy. 
Time
On top of the fees, practice times and competition schedules are frustrating many athletes. For example, indoor track practice, which once ran from 2:45-4:45, has now been cut by 30 minutes. Not to mention that the team will only have four meets across a 15 day period. This may create great problems for the team as they will have to run two meets a week, which could potentially cause athletes to injure themselves. 
The football team faces similar frustrations as they were quarantined at the beginning of the season and will now have to miss two games. Since they must complete two weeks of pre-season practice, the team cannot make up their games since scheduling and the start of the spring season will be so tight. 
The volleyball team originally held the later practice slot for all of their girls but is now taking up two time slots every day. The team's practices have too been shortened, but as the team is now divided into JV and Varsity, they now use double the gym time. However, it does seem that volleyball is off to a good start with their game schedule as they have already played a few games.
Although many obstacles have arisen from the Fall II sports season, athletes are just grateful they get to play their sports, or at least some form of their sports. Getting to go into school every day improves the mindsets and hopes of students and has shown the true dedication that Pentucket athletes and coaches have.
It can be extremely difficult to compete with the new limitations and changes put in place due to Covid-19, but there is an immense sense of determination and joy that comes from seeing the teams doing what they love.