Holiday Shopping Guide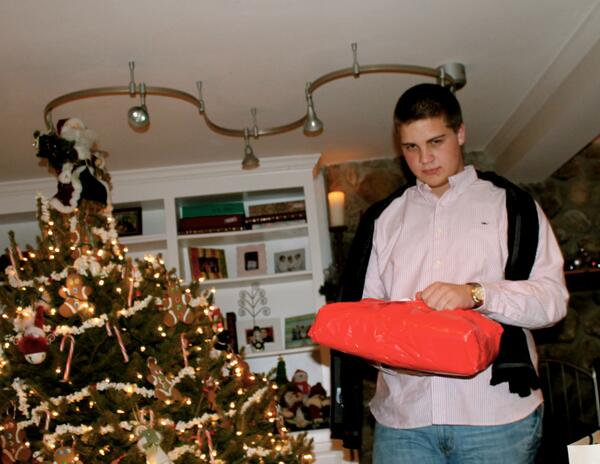 Alright! It's that dreaded time of year again! Christmas time. Ok maybe Christmas isn't dreaded, but holiday shopping is.
Teenagers face the challenge of buying the perfect gifts for all the people in their lives each winter. Gift giving is something that all people aren't great at. Fortunately you have me here to hold your hand along the way this Christmas season.
It is a timeless issue; what do you get them? Although I may not be able to solve this problem, I can make this guide to assist the frantic high school shoppers buy that perfect gift. There's less than 20 days left of shopping, so read quickly and start checking names off your gift list this season.
Here is your guide to what to get each special person in your life:
Mom. What to get Mom? She is the woman who brought you into this world and is always there for you. Wow, a lot of pressure (probably deserves a decent gift if you ask me).
Women, specifically Moms, love accessories. It's always good to buy them those, it's safe. Nordstrom, a top-of-the-line department store, has great designers, at a good price too. There are many times when Nordstrom has great deals in their Sale section online. Here you can get Kate Spade earrings for around $40, Ralph Lauren earrings for around $30, a variety of necklaces $30 and up, Michael Kors and Coach accessories $43 and up, and the list goes on and on. It's worth a look.
http://shop.nordstrom.com/c/sale-handbags-accessories?origin=leftnav
Does Mom love her phone? Boom. Phone case. Brilliant.
http://www.toryburch.com/accessories/tech-accessories/
Oh, Mom loves great food/dining? Great! The Phantom Gourmet (TV Show) sells a gift card usable at 200 restaurants (restaurants from Boston to Newburyport), so you don't have to choose the wrong one. Available $25+.
https://www.phantomgourmetcard.com/restaurants.aspx
Dad. Here's a tough one. What to get Pops? Maybe many of you may not be entirely sure what that man wants. It's a toughie. I have a few ideas.
Back to Nordstrom. Dads love ties. Who knows why?, but they do. They just love them. When you're buying Mom's jewelry, you may as well toss a tie in the cart. Designers like Calvin Klein and Hugo Boss are often on sale on Nordstrom.
http://shop.nordstrom.com/c/sale-mens-accessories?origin=leftnav#category=b60140539%7Cf8000856&type=category&marketingslots=1&page=1&color=&price=&brand=&instoreavailability=false&lastfilter=filtercategory_2&sizeFinderId=0&resultsmode=&segmentId=0
You're going to think I'm crazy on this one. But Dads who enjoy their time in the kitchen will love this. Good olive oil. I know, it's so boring, but in my experience Dads love it. Some people think that as far as olive oil goes, options are limited. They are not. Flavored olive oils can be used for cooking meats, dressing a salad, or just dipping bread. Trust me, the stuff tastes good. Don't believe me? Taste it for yourself at Newburyport Olive Oil Company (plenty of samples) and then buy some for Dad.
http://www.newburyportoliveoil.com/
Lastly, this is a surprisingly useful gadget accessory. This is a car phone mount that attaches to a vent. Dad will love his phone handy in the car on this mount. It works great and keeps most smartphones perfectly accessible on the road.
http://store.apple.com/us/product/HC299ZM/A/kenu-airframe-portable-car-vent-mount-for-iphone?find=kenu
Mom and Dad are important to buy gifts for, but friends and siblings are just as important.
Brother/Male Friend:
As suggested in Mom's gift ideas, a phone case can never be a bad thing. If your brother loves his iPhone, one of these cases may work for him.
http://www.amazon.com/s/ref=nb_sb_ss_i_0_11?url=search-alias%3Daps&field-keywords=wood+iphone+5+case&sprefix=wood+iphone%2Caps%2C296
Also, if your brother drives and really loves his car (as mine does), you can buy him some items for his car. Available at most big stores, car air fresheners and cleaners are always helpful. Also gas gift cards are a big help.
http://www.autozone.com/autozone/accessories/Fluids-and-Chemicals/Air-Freshener/_/N-25jv
http://www.buyshellgiftcards.com/Consumer-Purchasing.aspx
Sister/Girl Friend (2 Words) : 
Girls need plenty of things to keep their things in. This is exactly what this product does. A cosmetic bag. It is a place where they can put makeup or other stuff. Vera bradley sells very nice (well priced) cosmetic bags. This attached one is available in what seems like a million different colors.
http://www.verabradley.com/product/Gifts/30-and-Under/Small-Cosmetic/154770/defaultColorVariantId/182477/pc/731/c/0/sc/807/p/154770.uts
All girls love scarves. They're in too. Online at Forever 21, scarves can be found for under $10 and are chic and perfect for any girl on your list.
http://www.forever21.com/product/Category.aspx?br=F21&category=acc_scarf_gloves
One of the hardest to shop for is your boyfriend/girlfriend. There's an expectation that you'll buy a nice gift for them and it isn't always easy. Here's some inspiration.
For the Girlfriend (1 word) :
Tiffany & Co sells amazing products. All girls know that blue box and fantasize about receiving one. Jewelry from Tiffany doesn't always have to cost a bazillion dollars either. Here's a link to the under $150 section, where necklaces and other items can be found for around $100.
http://www.tiffany.com/shopping/CategoryBrowse.aspx?cid=563630&mcat=148207#p+1-n+10000-c+563630-s+5-r+-t+-ni+1-x+-pu+-f+-lr+-hr+-ri+-mi+-pp+
Vinyard Vines is a great company that has been getting very popular over the last few years. These flip-flops boast the look of the company and have the superior quality that makes Vinyard Vines, Vinyard Vines.
http://www.vineyardvines.com/accessories-flip-flops-women/accessories-flip-flops-women,default,sc.html
Forever women have loved to receive flowers. They are something that are always enjoyed and cherished. They're great to give to your girlfriend around the holidays. 1-800flowers.com has christmas bouquets ranging from $25-$225.
http://ww10.1800flowers.com/collection.do?sortBy=priceDesc&dataset=10403
Boyfriend :
If your boyfriend enjoys playing on his gaming system as much most teenage guys do then consider his present easy. He will love a game/new accessory this christmas.
http://www.xbox.com/en-US/#fbid=G5e9fhbOvH0
Ties. As Dad does, your boyfriend probably wouldn't mind a new tie. This is a great chance to choose what he wears, so take the opportunity.
http://shop.nordstrom.com/c/sale-mens-accessories?origin=leftnav#category=b60140539%7Cf8000856&type=category&marketingslots=1&page=1&color=&price=&brand=&instoreavailability=false&lastfilter=filtercategory_2&sizeFinderId=0&resultsmode=&segmentId=0
I hope that these ideas either work for you or have inspired an idea that does. Good luck with all the christmas shopping this December and Merry Christmas.
View Comments (6)