Building 19 Closes Its Doors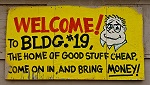 The popular store known for cheap and odd items officially closes its doors.
Since the 1960s, Building #19 has sold "good stuff cheap." However, about a month ago, Building #19 filed for bankruptcy protection and has officially closed all 10 of its stores. Building #19 sought permission to hire a liquidation consultant and close its 10 stores by Dec. 8, bringing to an end nearly a half-century of "Good Stuff. Cheap."
Building #19, customers never knew what they are going to find, and this was a part of the stores plan. Building #19 has always sold goods that merchants wanted to get rid of.
People shop at Building #19 for bargains that are hard to find elsewhere. Customers enjoy perusing the store for unique items.
Junior, Nicolette Kent, when asked her opinion on Building #19, said, "It's a great place to get cheap stuff, and it's good when you're looking for last minute things."
When customers were asked how they felt about Building #19 going out of business, there was a common feeling of disappointment.
Mrs. Brackbill, when asked how she felt, said, "I'm sad they are going out of business, I like Building #19."
Sophmore, Lucas Chory, also gave his opinion on how he felt about Building #19 going out of business; "I do not like it. It was a good store to get cheap costumes and cheap clothing for things that you were only going to wear once."
Anne Ward, a long time customer at Building #19, has been shopping there for over 50 years. She goes there for bargains primarily now, but she says that they use to have good clothing and yarn.  She commented that it is not as good as it use to be and it has gone downhill over the years. When asked how she felt about Building #19 going out of business said, "It is a lost from what it used to be."
Thinking back over the years Ward said that she use to refer to it is "B19" and she commented on how she loved the free coffee that Building #19 provided.
Ward also talked about how they have always been known for their oriental and expensive rugs, good furniture, and shoes.
For Ward, Building #19 is not only a store, but it brings back many memories.
The Bankruptcy of Building #19 seems to be a loss to the consumer world.
Leave a Comment