10 Best Fall Activities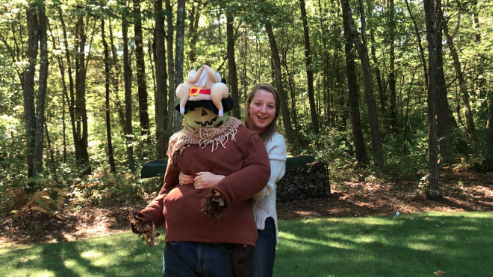 Fall is in full swing and people are flocking to their nearest apple orchids and football games.  There are so many fun things to do in the fall.  We decided to put our favorites in a top ten list and recommend that you do a few!
10:
Leaf Peeping (Fall Foliage)
Leaf Peeping, otherwise known as the scenic route, is just looking at the colorful leaves on the trees, and maybe even taking pictures!  Although this is a simple thing, it is so beautiful and there would not be fall without it.  
Best Places To Leaf Peep
Maudslay State Park

White Mountain Trail

Kangamangus HighWay
9:
Trick or Treat
Although this event may be directed towards younger kids, it is still fun for everyone! Giving out candy and seeing all the young kids dressed up for the holiday is always a fun experience!
Where to go:
Apple Blossom Way (Groveland)

West Parish Neighborhood- Hansom Drive (Merrimac)

River Meadow Drive (West Newbury)
8:
Make Scarecrows
Not many people make scarecrows, or even believe that making scarecrows is a fun fall experience. We disagree! Instead of just raking the leaves on your yard and throwing them in the woods or in bags, get some of your dad's old clothes, tie up the ends, and fill it up with the leaves you otherwise would have thrown out.
7:
Hayrides
Whether you are picking apples or just there for a leisurely ride, hayrides are one of the best parts of fall.  They add to the experience and can make leaf peeping, which is our number ten, even better!
Where you can go on a Hayride:
Cider Hill Farm (Amesbury)

Applecrest Farm (Hampton Falls, NH)

Haunted Hayride: Witch's Woods (Westford)
6:
Making Apple Pie
Nothing is better than eating a fresh apple pie, but making it is half the fun! The mix of cinnamon and apple encompasses all of the flavors of fall.  
5:
Football
Football is always exciting, but it is especially fun in the fall.  Watching the Thanksgiving game with the smell of turkey in the oven is a key factor of the fall ambiance.  
4:
Corn Maze
Whether you find your way out in ten minutes, or get lost in them for hours, corn mazes are always a fun fall adventure.  It is great way to bond with your family and friends.
Where you can do a corn maze:
 Kimball Farm (Haverhill)

Crescent Farm (Haverhill)

Smolak Farms (North Andover)
3:
Cider Donuts
After a fun day of apple picking, what is better than eating a warm cinnamon-covered cider donut.  At Cider Hill Farm in Amesbury, they do not only have the classic donut, but they have cider donut dog treats, and gluten free cider donuts.
Best Place to Get it:
Cider Hill Farm  (Amesbury)
2:
Pumpkin Carving
There is not much that screams fall more than pumpkins.  However, although pumpkins are not the best thing about fall, pumpkin carving is pretty fun.  Whether you carve a scary face, or cool art design, jack-o-lanterns are a great fall tradition.  
1:
Apple Picking
Although this is cliche, apple picking is definitely the number one  thing to do in fall.  What is better than taking a bite of a crispy apple on a breezy fall day? Absolutely nothing.
Where you can Apple Pick:
Cider Hill Farm (Amesbury)

Crescent Farm  (Haverhill)

Russell Orchards (Ipswich)