Rhode Island Comic Con 2017 Review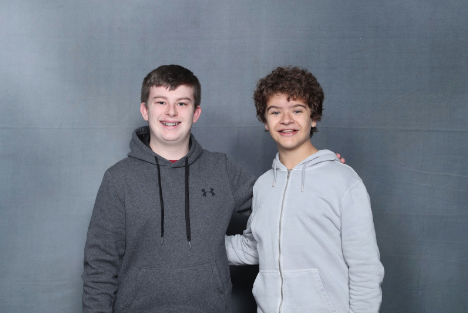 On November 11 2017, I attended Rhode Island Comic Con. Rhode Island Comic Con is a convention that gives fans the opportunity to meet well known comic creators, artists, and actors.
Notable guests included Elijah Wood (from Lord of the Rings), Christopher Lloyd (from Back to the Future), and William Shatner (from Star Trek). The guest list was subject to change at anytime before the show. As a result of that, many celebrities cancelled their appearance. Some guest cancellations included Norman Reedus, Freddie Prinze Jr., and Richard Dreyfuss. Norman Reedus cancelled for filming reasons. It is unknown why the other two guests cancelled.
Every celebrity has a booth at Rhode Island Comic Con. They all offer autographs at their booth, but only some of them offer photos. At a celebrity's booth, if one is buying a photo and an autograph, there is a combo price that costs less than both of the prices combined. Every guest offers professional photo ops. Professional photo ops are photos that fans can take with celebrities, however they are not a meet and greet. Photo ops only give the fan the opportunity to smile for the photo, and leave to pick up their included 8"x10" print of it. As with most Altered Reality conventions, Celeb Photo Ops handled all professional photo ops.
Prior to the show, I purchased a ticket for a professional photo op with Norman Reedus. However, on November 10th, Norman cancelled his appearance, so I am receiving a refund. After all of the cancellations, I decided to get an autograph and professional photo op from Gaten Matarazzo (Dustin from Stranger Things). The photo op costed $50, and the autograph costed $40. The reason I wanted to get an autograph from him in addition to the photo op, is because the time with celebrities during professional photo ops is very limited. When I showed Gaten how to spell my name (Shaun) on the personalized autograph, he said that he thinks it's a cool spelling.
I also took a picture and video with Ross Marquand (Aaron from The Walking Dead) at his booth. Ross's photo and video combo costed $70.  Before the video with Ross Marquand was taken, I asked him to do an impression of Donald Trump (for the video) as Ross is known for doing good impressions of different people. His impression was very well done.
Another large part of conventions like this is cosplay. Cosplay is the state of being dressed up as a popular character at a convention. Popular cosplays included characters from Rick and Morty, Stranger Things, and The Walking Dead. Cosplay is a very popular part of the conventions. Some people attend conventions in order to dress up, or meet others dressed as their favorite characters. The one that I feel was the most creative costume was a person dressed up as Ahsoka from Star Wars. I didn't see that costume in person, but I saw a few pictures of her on social media.
This was my second year attending Rhode Island Comic Con. My last overall subject for review is the art work. One vendor called Kudoze sold 4×6 piece featuring the character named Michonne from The Walking Dead. It costed $12. Another artist, Katie Cook, drew two custom portraits right in front of me. She drew Rey from Star Wars holding her lightsaber, and drew my dog in the other. She was charging $10 for each custom portrait.
Overall, Rhode Island Comic Con 2017 was a success for me. It was also the first time I went to a convention and payed a large amount of attention the the artwork. I still wish I could have met Norman Reedus and Khary Payton (two celebrities I was going to meet who cancelled their appearances), however, I still look forward to attending the show next year.