The Transition From High School To College
For many seniors it is around the time of year for applying to or hearing back from colleges, and it can be one of the most stressful few months for a high school student. It is all about the "what ifs" and "hows." What if I don't get into my first choice? What if I don't get accepted anywhere? How am I going to make the transition from high school to college? These are all questions for students whose next step is college.
According to the National Center for Education Statistics, 60 percent of students who were seeking a bachelor's degree in 2010 graduated by 2016 with that degree. Having some type of college degree can be extremely helpful for getting jobs in certain fields in the future, although, in 2014, 33 percent of recent college graduates did not get a job requiring the degree they have, according to Chicago Tribune. College can be helpful for some people's future, but for others, it may not be the right choice.
Getting some type of degree may be helpful in the near future because by 2020, according to Georgetown Education, 65 percent of jobs will require some kind of secondary education. As of March 2011, 41.3 percent of adults over the age of 25 years old held either a bachelor's or graduate degree. It is possible for others to achieve a similar degree, but the transition for many students from high school to college can be daunting.
On average, a high school student goes to school for 30 hours a week, along with about three and a half hours of homework per class per week (U.S. News). In college, most students need to be enrolled in twelve credits in order to be considered a full-time student, and it is recommended that they study for two hours per week for each credit hour they take, according to (CAPS).
Another big change for some high school seniors is the thought of no longer living at home. One most likely will not have their own room, and they will have to share a new living space with someone who is likely a complete stranger. For some home is a few minutes or a few hours drive, but for others, home could be a plane ride away which makes some students think twice when picking a college.
One very difficult decision that high schoolers have to make is choosing a major. There are so many to pick from and most 17-18 year olds do not know what they want to do for the rest of their lives. Even if they do know what they want to do, finding a college that offers their major can be difficult depending on location, cost, and other factors to consider such as private or public, big or small, and many others. Luckily in college, it is fairly easy to change your major towards the beginning. In fact, according to Inside Higher Education , 64 percent of students who entered college in the 2011-2012 school year changed their major at least once by 2014.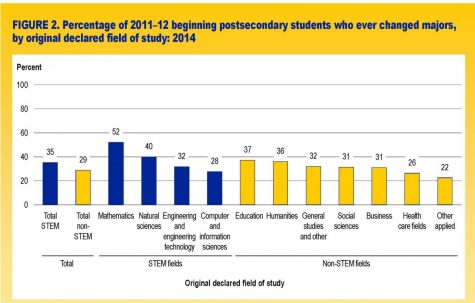 College starts way earlier than when one arrives at the school. If someone is planning on going to college, a good time to start thinking about it is the beginning of high school. Colleges look at grades from all of high school, so if someone wants to go to college he or she should be thinking about their grades in advance. Depending on the colleges they want to apply to, they will have to achieve certain standards based on merit.
Another part of applying to college is taking either the SAT, ACT, or both. Although not all schools require it, 95 percent of colleges in the U.S. require either SAT or ACT so it is highly likely a school will require one (U.S. News). A vast majority of high schoolers take the SAT or ACT at the end of junior year so that they have time to improve their score before applications are due and have plenty of time to get ready for college and the changes ahead.