Senior Feature: Josh Thibeau
Josh Thibeau grew up in West Newbury, MA and transferred to Pentucket from Landmark High School at the beginning of his junior year.
Josh Thibeau ran cross country his junior year. He participated on the swim team his junior and senior year. During his junior year, Josh was the first male to swim at States for an individual event for Pentucket. He has won the CAL league in the 100 yard freestyle two years in a row! He also won the 50 yard freestyle his senior year. As a relay, he won the 4×100 yard freestyle this year. At sectionals, he came in 7th place in the 50 yard freestyle, during his senior year. Josh has also been the MVP for his junior and senior year. At one point, he held every school record for boys swimming, until his 100 yard butterfly record was beat.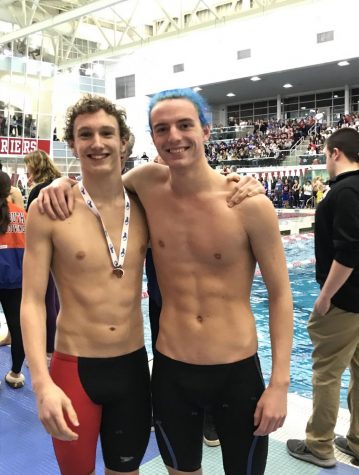 During his junior and senior year, Josh took part in the Model United Nations Club. His senior year, he was the Secretary of the General Assembly.
After graduation, Josh plans on attending Ithaca college. Josh will continue swimming, and he will study Film, Photography, and Visual Arts. 
When asked what Josh will miss about Pentucket, he said, "I shall miss my friends more than anything. I might not have spent that much time at Pentucket, but in the few years I have spent, I have made some amazing friends."
For the last three years, Josh has worked with the Special Olympics in his free time.
Josh's favorite memory at Pentucket is when he helped the teachers create their Color Day video and was able to watch the video with his classmates. 
When Josh was asked what he would like to add, he responded, "There are more variations to the order of a deck of cards than there are atoms in the Earth."