Twisted: The Untold Story of a Royal Vizier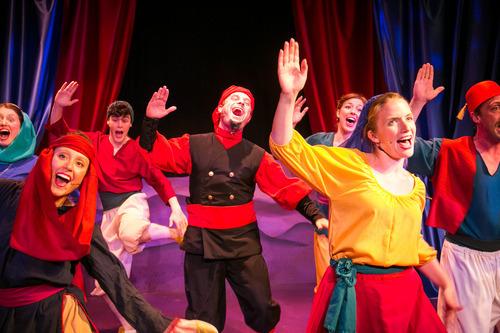 If you think you know the story of Aladdin, think again. Twisted, performed by the theater company Starkid, tells the untold story of Jarfar, the royal vizier.
The musical takes place during the events of Aladdin and shows how Jarfar wasn't the bad guy after all. He was ready to change the city for good and was going to do it with his wife, Sherrezade, (played by Meredith Stepien). Though, when his wife is forced to marry the sultan and his taking away from Jarfar, he starts to take a twisted path to get her back.
Going on at the same time, Jasmine is struggling with who she is and wants to get out of the palace and try to be her own person. This is when Aladdin comes into the picture, an orphaned 33 year old, and all he wants to do is have Jasmine take her clothes off. He even sings a song about it!
The actors in this show are amazing, especially Dylan Saunders who plays Jafar. He's passionate about the role and sheds a new light on the villain we thought we knew. Jeff Blim, Aladdin, is hilarious and you will never view the character the same again. Which is a good thing in this case.
This is a must watch musical. It is a wonderful experience filled with range of emotions, and you can view it on youtube. It can attest to their talent that they were so in demand, the entire project was fan-funded. Don't forget to check out Starkid's other musicals as well!
View Comments (3)