Dustin Pedroia's Unforgettable Career With Boston Comes to an End
On February 1, 2021, Dustin Pedroia announced his retirement from the Red Sox and Major League Baseball all together. He played 14 seasons with the Red Sox and he is regarded as the best second baseman to ever play for Boston. Pedroia was so fun to watch because of his scrappiness and the energy he brought with him to every game. 
There's no doubt that he'll go down as one of the greatest players in Red Sox history.
Pedroia's career was unreal. He won numerous awards along with winning a couple of championships during his 14 seasons with the Red Sox. He won Rookie of the Year in 2007 and was the American League MVP in 2008. 
Pedroia was the first second baseman to win MVP since Matt Hornsby in 1958. He won a Silver Slugger in 2008. He won four Gold Glove awards making him the best second baseman in the American League those four years. During his career, Pedroia racked up 1,805 hits, 140 home runs, 725 RBIs, and 922 runs scored. 
          He was a member of the 2007, 2013, and 2018 World Series teams. He contributed heavily to the first two championships in 2007 and 2013 with his hits and defensive plays. He was unofficially an assistant coach on the 2018 team as he was unable to play due to a knee injury.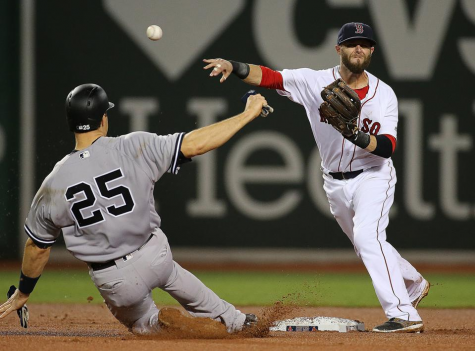 Dustin Pedroia suffered from a knee injury in 2017. He didn't play in many games and he was doing whatever he could do to get back out on the field. In January of 2020, Pedroia woke up with a swollen knee and would need a partial knee replacement. 
In an interview with ESPN, Pedroia mentioned that it was hard walking upstairs and standing up for long periods of time with the knee replacement. He told ESPN, "Every day I would break down. I didn't show it to my wife and kids, but I would go into the bathroom and chill a little bit and break down because it's hard." 
Sam Kennedy, Red Sox President, says that Pedroia can have any role in the organization that he wants. It's possible that we could see Pedroia with a prominent coaching role with the Red Sox in the near future, but for now, Pedroia wants to spend time with his kids. He told ESPN, "Right now, I want to enjoy being a dad and having fun with my boys and being here, not worrying about rehabbing all day long or worrying about what game we're playing. Just be normal for a little bit; when it's time, it's 100 percent in whatever I choose to do."
Dustin Pedroia was my favorite player growing up. His personality on and off the field combined with his exceptional ability to play baseball made him the most fun player to watch on the Red Sox. The only player that I can think of that was as fun to watch as Pedroia was David Ortiz.
 I was small growing up and so I related to Pedroia with his height only being 5' 9." That's a big reason why I liked him so much. It's sad seeing him go, but I'm glad for his time on the Boston Red Sox.