NFL 2021 First-Round Draft Grades For Picks 11-21
These are my grades for draft picks 11-21 from the 2020 NFL Draft.
11. Chicago Bears-Justin Fields: A++
The Chicago Bears shocked the football world as they drafted well, for once. After the Trubusky Era failed horribly, the Bears needed to get a quarterback to save Matt Nagy and Ryan Pace's jobs. Fields are in a good spot because he does not have to right away, and he joins a good team with a stellar defense. 
In the wake of the Aaron Rodgers trade reports, Fields can seize the moment and lead the Bears to NFC North victories if Rodgers leaves.
Fields is a dual-threat quarterback in the same ways as Russel Wilson, and if Fields can translate his skill set to the NFL, he will be the perfect quarterback. After years of terrible and below-average quarterbacks, the Bears get an A++ for giving up draft capital for the 2022 Draft to get a great quarterback for the future.
12. Dallas Cowboys-Micah Parsons: B-
The Cowboys lost their top prospect in Patrick Surtain II to the Broncos, so trading back with the Eagles made sense. Although Parsons is a great player and Sean Lee has retired, the Cowboys did not need another linebacker, so their pick did not make total sense. They could have taken Kwity Paye or Greg Newsome II to fix their defense and try to compete, but they just added the best linebacker in the draft to a full linebacker room.
Parson has a lot of concerns because of personality issues, and they may pose a problem for the Cowboys in the future. While he is a standout player, the Cowboys did not need him, and he might be a distraction or bring bad energy to the locker room. Drafting Parson, the best linebacker in the draft, only gets the Cowboys a B- in my opinion.
13. Los Angeles Chargers-Rashawn Slater- A++
The Chargers needed to improve their offensive line, and they did in the offseason and with this pick. Slater will be a fantastic player because, in his last college season (2019), as he opted out of the 2020 Season, he did not allow any sacks. The Chargers put the foundation for a wall around Justin Herbet in free agency, and Slater is the final brick.
Drafting Slater to complete the wall around Justin Herbet is an A++ for first head coach Brandon Staley and GM Tom Telesco.
14. New York Jets-Alijah Vera Tucker: A+
After drafting a new quarterback with the second overall pick, the Jets made a good decision to trade up with the Vikings to get an offensive guard to protect Zach Wilson. You can not have a good quarterback without an offensive line, which for the Jets is not the best even now. So taking a step in the right direction to build one so Wilson can avoid injury, play well, and develop is great "general managing." 
This pick gets the Jets an A+ because they are protecting Wilson, so he does not have a rookie season like Joe Burrow.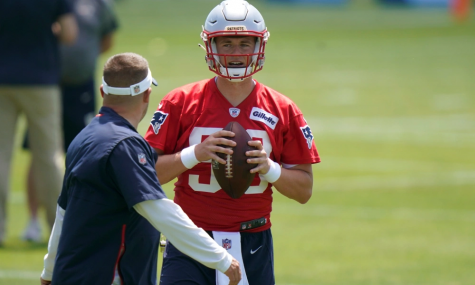 15. New England Patriots- Mac Jones: A+
Mac Jones is a great pick for the Patriots for multiple reasons and here is why:
The Patriots needed a long-term answer for their quarterback problem since Tom Brady left, especially seeing that Newton is not the long-term answer.
Bill Bellichek and Nick Saban, the Alabama coach, where Jones played, have a good relationship and have worked together before.
Jones fits the Patriots system very well, as he draws comparisons to Brady.
Jones is a well and accurate passer, just what the team is used to and needs.
And the list goes on and on because this pick is very good. Jones was thought to be the 49ers' target for a quarterback for weeks leading up to the draft, and landing him at 15 is really good. The news that the Saints wanted to trade up for him at 16 if he was still available shows that the smart minds in the NFL want a guy like Jones. 
Jones is not Brady, but the comparisons are uncanny. Jones is also in a good spot because he does not have to start week one, unlike Lawrence and Wilson. Landing a quarterback who plays like Brady, is football smart, and is wanted by many great NFL minds, the Patriots join the Jets and Jaguars with an A+ for their quarterback selections.
16. Arizona Cardinals-Zaven Collins: B+
A lot of people do not like this pick because Jeremiah Owusu-Koramoah was still on the board and the Cardinals did not necessarily need a linebacker, since they got one in the 2020 draft. The Cardinals also needed a cornerback because Partick Peterson left in free agency. While I cannot say this pick is a grand slam because Greg Newsome II and Caleb Farley were also still on the board, Collins plays really well on the outside and has the strength, size, and power to be a dominant force on the Cardinals defense.
While Collins will be a fantastic addition, the Cardinals should have upgraded their cornerbacks or taken the better linebacker available in Jeremiah Owusu-Koramoah. These factors make it a B+ pick.
17. Las Vegas Raiders-Alex Leatherwood: D+
What were the Raiders doing with this pick? They should have taken Trevon Moehrig, whom they did pick in the second round, Greg Newsome II, or Asante Samuel Jr, but instead, they got an offensive tackle that had a second or third-round grade. While the Raiders did draft a safety in the second round, and they also needed to address their offensive line, this pick was not it.
They should have taken Leatherwood in the second or third round, but they reached in picking him at 17.
Drafting a second or third-round graded offensive tackle with the 17th overall pick earns the Raiders a D+.
18. Miami Dolphins-Jaelan Phillips: A-
This is a really great pick for a team that had two first-round picks. Drafting an edge rusher is a smart move to bolster an already dominant defense. Phillips was a stud at the University of Miami, but the only problem with this pick is his concussion history. 
He retired from football because of so many concussions but came back to wreak havoc on opposing teams.
Phillips will be a stupendous addition to a dominant defense with his skills, but his concussion history is concerning, which is why the Dolphins get an A-, as opposed to an A or A+.
19. Washington Football Team-Jamin Davis: A
This is another good pick for a team that has a dominant defense. Davis will strengthen the Football Team defense and be a key contributor to their success. Although the Football Team should have taken Jeremiah Owusu-Koramoah, Davis is still a grade-A pick.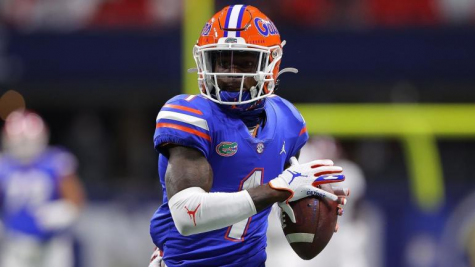 20. New York Giants – Kadarius Toney : B
This pick is questionable because Toney should not have been taken so high, even though he is an explosive wide receiver. While providing Daniel Jones with more weapons to determine if he can be good or if he is a bust, is smart, I think the Giants should have taken Rashod Bateman or traded down again to get more draft capital. If they traded down with the Raven at pick 27, they have most likely still been able to land Toney.
Toney will be extremely explosive, but he should not have been taken at 20, and that is why the Giants get a B.
21. Indianapolis Colts-Kwity Paye: A
This is some fantastic general managing work by the Colts as Paye is a standout edge rusher, and his story is motivational, which keeps him playing at a high level. The Colts landed a stud for their defense that was top ten last year.
But, Rashod Bateman and Elijah Moore were still on the board, and the Colts needed another receiver. Adding another receiver would have helped Wentz have a higher chance of succeeding, but Paye is still a fantastic player to strengthen their already standout defense. Drafting Paye while passing on Bateman and Moore gets the Colts an A.