Beyond Ink: Tattoos of the Students and Faculty of Pentucket
Tattoos are a permanent reminder of a time in your life when you found meaning in something and decided to immortalize the art onto your skin. There can be many different meanings to tattoos, or no meaning at all! Life is short and eventually, we'll all just end up as bones and rotting flesh, so why not decorate your body with the things that you love? I asked students and faculty at Pentucket to share their tattoos and the stories that go along with them. The answers I received were incredibly diverse and it was so interesting hearing the stories behind everyone's tattoos.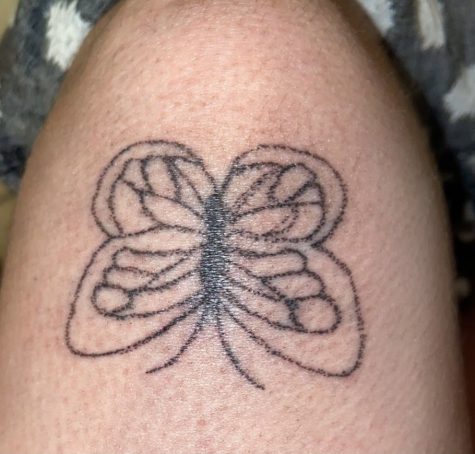 Starting with one of my own tattoos, this is a Stick and Poke of a butterfly done by my best friend Jamie at a sleepover. If I'm being honest about why I decided on a butterfly, it was because I previously had an exclamation point in the same place and I wanted to cover it up. It took about two hours and it is not perfect, but I like it and the memory attached to it is a good one.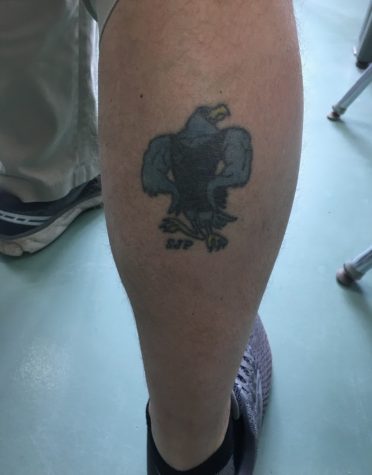 Next up in our tattoo tour is Mr. Honer's eagle wearing a wrestling singlet! When I asked him about the story behind it, he said, "The quick story is that I wrestled in high school, and then was an assistant coach there too, and it is the high school mascot in a wrestling outfit. It pinched when they inked it. Still proud of it 20+ years later and many happy memories."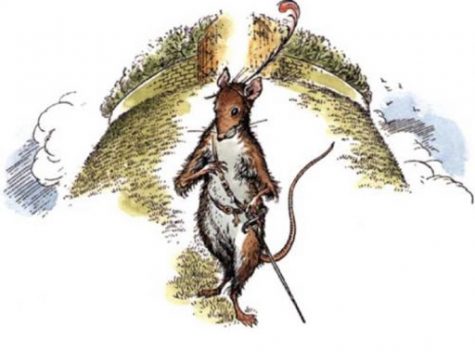 While this picture isn't a tattoo, Mr. Bart has the exact same image on his ribcage! He told me that he decided to get it at 22 after years of consideration at Tattoo America in Seabrook. This little mouse is Reepicheep from Narnia. This tattoo is also matching with Mr. Bart's friend Mantis (which, by the way, is a wicked awesome name). Mr. Bart finds meaning in his tattoo because, "although he is a mouse, he still conducts himself impeccably and holds himself to a high standard. The fact that he is a mouse is completely secondary to his ideals. He will not let the world around him define who he is or what he is capable of accomplishing."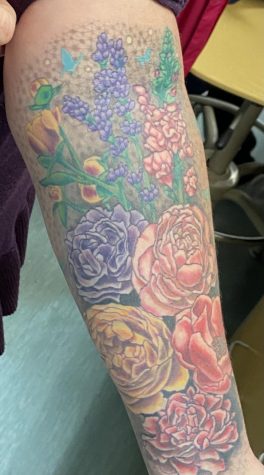 This tattoo of a beautiful garden scene belongs to Mrs. Merrit. The many different flowers represent different people and things that are important to her. The Charlotte Rose and the Poppy flower represent her daughter and late father respectively. The tattoo also includes Peonies, which are her favorite flower and also mean successful marriage, along with Lavender and Snapdragons which mean peace and growth.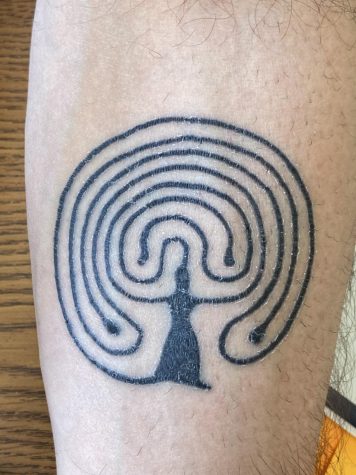 The first of Mr. Casey's tattoos is of the Hopi Indian symbol for Mother Earth; a Tapuat. "It's a symbol of mother and child," he explained to me. "Life is a maze that you navigate, and mothers are at the center. Both Mother Nature, and my Mom."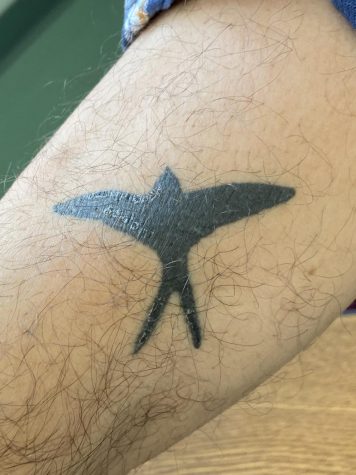 Mr Casey's second tattoo is a Swallow on his arm. He has more than one too. In Greek and Roman mythology, Swallow birds represent human souls. According to the mythology, dead ancestors would return in Springtime as Sparrows. Mr Casey gets one bird for each loved one that has passed away. There's a deeper meaning to these as well; the process of getting a tattoo mimics grief itself. Just like grief, it heals over a period of weeks, and when the physical pain of it is gone, the tattoo remains.
Tattoos mean something different to everybody– whether you find meaning in beloved characters or in ancient symbolism, tattoos are a way to commemorate the most important things in your life by immortalizing them on your body.